Elder Nelson to Mom:
Empanadas de Uruguay
Yeah, I had a pretty nice birthday. I got to celebrate it on my actual birthday, haha. I had two families that took care of me. Adrianna made us lunch (empanadas, arroz and milanesa) plus a banana cake that is almost identical to Nana's banana nut bread so that was a nice taste of home. Then at
8:30
an investigating family gave us coke, pizza and another awesome cake, so all in all not much different then home, just without the presents. Oh the mission Presidente (most likely his wife) sent me 4 banana blueberry muffins, I think. Not sure what flavor it was exactly, but regardless it was delish. However they do that for all missionaries but it is cool that they take care of us like that. I also got cards from Nana and Pop-Pop as well as one from Joyce.
Milanesa
Yeah it's pretty weird that I only have one more birthday in my mission, and that this is my last year as a teenager. Not a whole lot exciting is happening here. I think there was another storm here and it either missed us or was really short and we just didn't notice. Today we did a BBQ at a park on the border between Uruguay and Brazil. We played Jenga, threw a frisbee around, and played a game similar to american touch football with a lot less rules. Oh, and I caught a fish today. So all is well in Uruguay. I miss you guys but I'm having fun.
Glad Phil is getting back to where he used to be. Haha yeah, the weed whacking isn't really something fun. I recommend listening to music to make it slightly less boring. However I think we have enough problems with our house as is, we don't need to make it a fire hazard as well. Glad Ayami is doing well. Hopefully adding another kid isn't causing too many headaches in the family. Glad to hear the girls are doing good. That will be weird coming back and having them be completely different then I remember.
Yeah, I've definitely learned how to appreciate being busy because the more busy we are the less time I have to think negative thoughts like, oh my spanish sucks, or I miss my family, or none of our investigators are progressing. So you guys clearly knew what you were doing by always trying to keep us kids busy so thanks for that :) anyways I'll keep trying to upload pics but no promises. I love you and I'll talk with you next week. :) <3
Elder Nelson to Dad: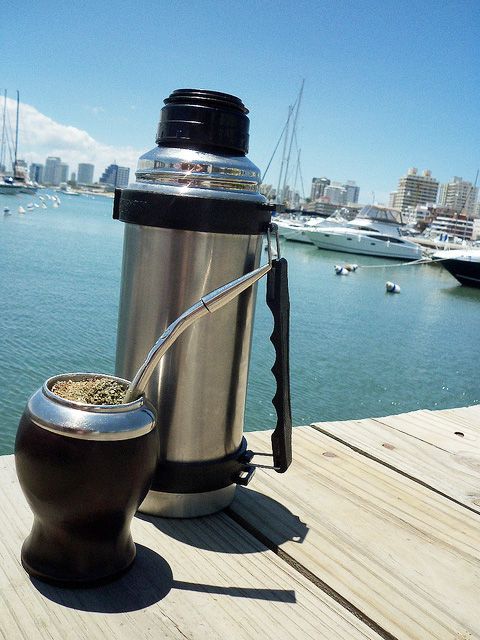 Uruguyan staples: Thermos and Mate Gourd
Haha, no I'm eating fine. Pretty sure I'm at 150 pounds and I started at 135 so I'm not starving to death. Pretty sure I've already taken out 100 dollars or a little more. I believe I started with 500 something on my card, and now I have an even 400. The snacks here are all pretty unhealthy and loaded with trans fat, however they do have nice cheap fruit here so we take advantage of that.
I don't need need a multitool. And I don't know what's a good Uruguayan souvenir. Not a whole lot looks interesting here. Basically buy yourself a matte cup and a thermos and that's uruguay for you :P Ok, thanks for that info. I'll stop being such a pinchecoma (spelt wrong but I think it means cheapskate or penny pincher) with my cash.
I can't send the pic through gmail because I guess the file is unsupported. Anyways I told mom and nana about how my birthday was so you can ask one of them because I don't feel like typing it a third time :P
(Regarding the leaks) Yeah, lawyers generally aren't cheap but at the same time I don't think anyone in our family has studied law. (Regarding State FFA Convention) That's super cool that you had that experience . You should try to get either Josh or Ayami to go to that in the upcoming years. It was a really cool experience for me and looking back on it I don't know why I only did it my senior year.
That's cool that Patrick is coming to work for you. Getting the gang back together. Anyways hopefully I can convince Finlay to go to a different cyber next week that has better internet but we'll see. Anyways I'll keep my eyes open for the package. Keep leading the family strong in the faith. I pray for you guys daily. I love you all and will talk with you more next week.
>Much love Benjámin