Elder Nelson to Dad:
TaTa Market, Artigas, Uruguay
(Regarding sending packages)
I think US postal service is what most people use but I'm honestly not sure which is best. I think Elder Eiker's parents (from California) use US postal service and he's gotten at least one package in the mail now for 3 straight weeks and it usually takes about a month to arrive. Haha, that is our TaTa store! There's actually two in this area but that is the bigger and nicer of the two right next to the bus station. That's where I bought a 3 pack of cheapy loofas, we buy sandwich materials there, condiments, and you can get deodorant there. Basically anything you could get at a regular super market but everything just seems super experience to broke missionaries. However Tata does play some relatively nice tunes while shopping (not that that is why we go there).
Elder Finlay is fine. He's still district leader and has been for like 3 or 4 changes. Not much changed with any of our families this week. There are all kind of where they were at last week. A lot of them need to get married, stop smoking, and gain a testimony. Supposedly our church attendance was back up to 90 but I counted and thought it was closer to 80, but it is going back up again. But we are still lacking triple figures which we haven't hit since my first week here. Not sure about mothers day (skyping). When is mothers day?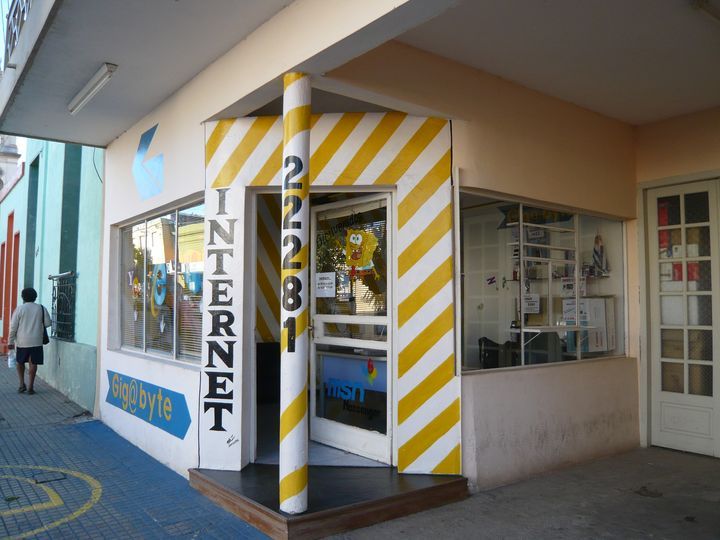 Cyber café Bob l'Eponge, Artigas
Haven't taken many pictures since. I want to try to go to a different cyber that has less machines and better internet,
because here I can't download dropbox on the computer which I think will be faster than uploading them through the website but I'm not sure.
I freaking love being a missionary. I mean yeah, I wish I could speak the language, I wish we had multiple baptisms in the future, I wish I had 3 square meals a day. But I don't have any problems waking up on time each day or going out proselyting. I try to push us to do our best everyday rather than go home early just because we don't have a lesson planed at that very hour.
Yeah, the girls looked crazy big in all the Easter videos. Yeah, I see Josh changed his hair. Any reason or influence with that decision, or just switching things up? Regardless keep rocking what you feel like. Oh Ayami. That's all I have to say. Oh Ayami. (Being convinced about the reality of mermaids in the unexplored ocean depths)
Haha, I probably could go bareback riding
(on the wild horses in his rural area)
and I've been tempted to, a couple times, but I can just imagine the chewing out from mom I'd get if anything went wrong in that situation. But yeah, horses are just chilling everywhere here. I know some are people's horses but I don't know which. I've probably like touched 5 horses now. Not much else to do except kick rocks between your comps legs at the expense of the longevity of your shoes.
Anyways thanks for the birthday wish and packages. I'll let you know if anything special happens on my birthday. Next monday we leave for Montevideo to hear Dallin H. Oaks which is exciting but at the same time it means 2 days of not proselyting since it is an 8 hour bus ride both ways. Much love to everyone in the family. Les quiero y nos vemos!
Elder Nelson to Mom:
I can't really believe it (turning 19) either. I turn 3 months in the mish in like 2 days. I'm just about 2/3 of the way done with my training with Elder Finlay, and before I know it I'll be 19 and then it will be Mothers Day. I don't know if time is going as fast in California as it is here, but time flies down here.
Wow that's scary (to have credit card information stolen). Luckily I don't think I'll have that problem because I don't have a ton of money to steal :P Glad that you guys didn't get ripped off and that hopefully it doesn't happen again.
Well at this point
(with the leaks)
we might as well just get a whole new house. I keep praying for you guys and the house so I'm confident the Lord will provide in whatever way He seems fit. It could be worse. We have a ward member named Ariel, I assume spelled the same as the mermaid. Anyways the story with him is he is getting kicked out of his house in like 9 days because the people that were renting the house want it back or something. I don't know the specifics but basically this nice old Uruguayan cowboy can be homeless in a week if he doesn't find a new place to live. Hopefully some milagro happens in that situation as well.
Yeah, we had a lesson/noche de hogar with a family that potentially might get a divorce. The lady who set up the whole thing had a strict lesson planned out and basically just wanted to read a talk about marriage which was fine and dandy, but the people thought God was potential and energy and not an actual personage, so we had to address that. Ultimately we just left them with the invitation to pray as a family to strenthen their relationship as well as receive answers.
I saw all 5 of the videos. There was the snake one, 6 flags, 2 of them throwing easter eggs and I think another of Destiny still talking about snakes. They were all super cute. I love you a lot. Couldn't ask for a better mom and I wouldn't trade you for the world. I'll let you know how my birthday goes. At 7 O'Clock
you guys should sing me happy birthday because I should be in my house knowing that you're singing it for me :P Anyways I love you and I should go try to work on the pictures. XOxo